Promoting Health and Productivity Management
Since its foundation, HEPCO has remained committed to fulfilling its role as a responsible energy provider that contributes to the sustainable development of Hokkaido. To achieve this commitment, it is imperative that every employee supports the business while working to promote their health and maximizes their performance to improve productivity.
Accordingly, we at HEPCO in collaboration with the health insurance association make company-wide efforts to promote health and productivity management, rather than leaving health management to individual employees, to create a workplace where all employees can work healthily and vibrantly.
To promote health and productivity management, we work to deepen the understanding of employees where necessary by, for example, delivering our president's messages and publicizing our Declaration of Health and Productivity Management.
Declaration of Health and Productivity Management
Aiming towards the fulfilment of its mission of ceaselessly providing Hokkaido with electricity to support the local economy and livelihoods, HEPCO must ensure that every employee stays driven and fulfills their potential at work.
What is of the utmost importance for this purpose is that employees remain in good health, both physically and mentally, which requires us to raise their awareness of the importance of health.
We engage in various activities from the perspective of health and productivity management* whereby investment in employees' health is viewed as a corporate philosophy because their health management leads to greater corporate productivity and bottom-line results.
HEPCO will work together with all employees and the health insurance association to create a pleasant workplace environment where everyone pays attention to and verbally checks on each other's health by encouraging workplace communication, while also taking initiatives to have all employees undergo regular health examinations and utilize examination results to improve their lifestyle habits, such as exercise and diet.
Based on our firm resolution to put health and safety before anything else, we aim to promote the health management of employees by helping them stay fit and making the workplace even more pleasant.
Yutaka Fujii
President&Director(CEO),
Hokkaido Electric Power Co.,Inc.
*Health and productivity management is an approach that considers the health management of employees from a corporate management perspective and promotes it strategically based on the idea that investment in employees' health will lead to higher corporate productivity and profitability.
Structure for the Promotion of Health and Productivity Management
HEPCO's Central Industrial Safety & Health Committee, comprised of representatives of labor and management and of the departments responsible for employee health management, regularly meets to discuss health issues and to implement effective measures following the PDCA cycle.
Meetings are attended by management officials in charge of personnel and labor relations when necessary.
The status of initiatives being taken to promote employee health management is reported every six months at a meeting of the president and other management officials in order to check progress and discuss other matters.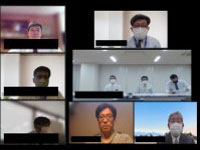 Initiatives for Maintaining and Promoting Employee Health
Provision of health consultations to all employees by the industrial health staff
HEPCO provides all employees with health consultations conducted by public health nurses at least once annually.
Tailored advice is provided for lifestyle improvements because regular health examination results often reveal anomalies with blood pressure and in lipids that are considered closely related to diet, exercise and other lifestyle choices.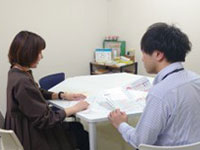 A company-wide campaign month for health promotion and other initiatives
HEPCO has designated October as the Autumn Get-Healthy Campaign Month. During the campaign, a variety of activities are held at business offices to encourage those employees who are less interested in health management to change their behavior and to have voluntary health promotion efforts take root in the workplace.
During the month, HEPCO holds walk rallies for all employees and other events to raise their awareness of the importance of health management.
Each HEPCO office also implements various health promotion activities during and outside the campaign month.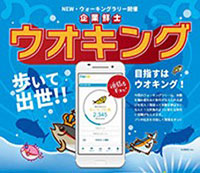 Educational programs for maintaining and promoting employee health
HEPCO provides all employees with e-learning programs to enhance their health literacy so that they can better utilize their knowledge about health. It also offers mental health and other training programs separately for the management and general staff every year.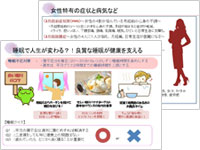 Health data of employees
HEPCO
Average of all health insurance association
Current goals
(End of FY 2021)
Employees with adequate exercise habits
22.4%
29.5%
29.5%
Employees with adequate diet habits
77.1%
66.9%
80.0%
(Source: Health Scoring Report of Health Insurance Associations in FY 2019)