HEPCO has placed initiatives concerning industrial safety and health initiatives among our top priorities. We fundamentally recognize that these are the most basic responsibility of all our employees, and we have set priority targets for managing industrial safety and health. All employees are engaged in these activities with the goal of preventing industrial accidents, maintaining and promoting health, and creating a comfortable workplace environment.
System for Promoting Industrial Safety & Health Management and Activities
A committee established at our Head Office deliberates basic measures to prevent workers from exposure to risks or health hazards, causes of industrial accidents, as well as measures to prevent any such recurrences.
Business offices formulate detailed plans based upon the policy set by the Head Office committee, and enhance industrial safety and health management and implement activities in accordance with the PDCA cycle.
Safety Initiatives for Zero Accidents
Keeping in mind that efforts to eliminate minor work-related accidents where no leave of absence results ultimately leads to the prevention of serious accidents, all of our workplaces engages in activities of their own accord to raise each and every employee's awareness of hazards as well as be more aware of the potential risks around them so that we do not overlook situations that might allow minor accidents to happen.
In addition, the HEPCO Group has designated July as Summer Safety Campaign Month and February as Winter Safety Campaign Month. During these campaigns, a variety of activities and safety events are held as the entire HEPCO Group comes together with the aim of eliminating work-related accidents and raising safety awareness.
In addition to these initiatives, we have rolled out measures across our organization to prevent the recurrence of previous work-related accidents. As a result, the frequency rate*1 as well as the severity rate*2 of work-related injuries have both remained below the national average for all industries.
*1: The frequency rate of work-related injuries represents the frequency of work-related accidents indicating the number of fatalities and injuries, which require a leave of absence of one day or more due to a work-related accident, per 1 million working hours.
*2: The severity rate of work-related injuries represents the degree of severity of work-related accidents indicating the number of workdays lost due to a work-related accident per one thousand working hours.
[Change in the Frequency Rate of Work-Related Injuries]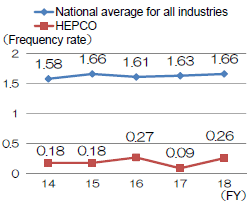 [Change in the Severity Rate of Work-Related Injuries]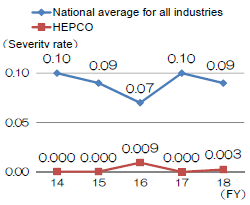 Promoting Safety Together with Contractors and Partner Companies
In striving to ensure safety, HEPCO has joined together with our construction work and service contractors, and we have established a council with our partners at companies involved in construction for the purpose of preventing work-related accidents. The council discusses priority actions for keeping work-related accidents from happening as well as measures to address previous work-related accident incidents. In addition to its other activities, the council presents safety commendations to companies, offices and individuals who demonstrate outstanding safety management and contribute to putting an end to work-related accidents.
Initiatives for Maintaining and Promoting Employee Health
Every year, HEPCO provides all of our personnel with health consultations conducted by public health nurses. We are also actively committed to initiatives for maintaining and promoting health, such as the company-wide "Autumn Get-Healthy Campaign" in October.
In addition, in collaboration with the health insurance association, HEPCO offers assistance for medical examinations, other health screenings and information about healthcare services and also holds walk rallies and other events.
As part of our measures to promote mental health, we have advanced initiatives to support each and every employee in maintaining and fostering his or her mental health through stress checks and workshops as well as a system of in-house and independent consultation services available to employees.