Compliance Promotion
HEPCO established the "Compliance Code of Conduct," which mandates that corporate officers and employees be even more aware of how they should conduct themselves so they comply with laws, regulations, company rules, and corporate ethics in their respective activities and all aspects of operations.
In addition, because compliance is inseparable from business operations, the managers of departments and offices, have been appointed to serve as compliance managers (103 positions as of March 31, 2019), who coordinate their activities with the Secretariat (General Affairs Department's Compliance Office and Power Network Company's General Affairs Department). In each workplace, these compliance managers are central to efforts to promote greater awareness of compliance and establish proper observance in the way that personnel conduct themselves.
In addition to on-the-job training in the workplace (provided quarterly) which uses teaching materials of compiled case studies of compliance violations and other such incidents in operations as well as in private life, e-learning is offered for all employees (5,605 employees participated during the year), and compliance workshops (100 sessions over the year with a total of 4,313 students) have been provided for each workplace and age groups with the Secretariat providing instructors (achievements recorded in FY2019).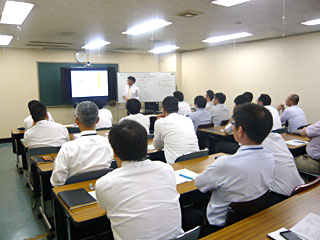 Compliance Workshop
[Results of survey of all employees about compliance (conducted in January 2019)]
Do you conduct yourself with an awareness of compliance on a daily basis? (HEPCO Group Head Office)
99.5% answered "Yes."
Support for HEPCO Group Company Activities
The Secretariat has taken the lead in promoting compliance throughout the HEPCO Group, and provided support for initiatives at HEPCO Group companies.
In addition, the Secretariat holds "Group Compliance Liaison Meetings" twice a year with compliance officers at HEPCO Group companies to exchange information. It also offers compliance workshops for HEPCO Group companies upon request.